See all products from Blaze
Blaze and the Monster Machines
---
---
Product Code:
CGK15
Barcode:
887961065886
Recommended Age:
3+ Years
Dimensions:
26.40cm X 10.50cm X 17.80cm (LxWxxH)
Weight:
481g
Delivery Time:
Within 6 Days
---
Description
The red transformable turbo launcher goes to the rescue of traffic accidents, choose what you want it to become, according to the accessory that you can remove or add.
Blaze and the Monster Machines
Nickelodeon's Blaze and the Monster Machines is an interactive series for preschoolers featuring Blaze, the world's most amazing monster truck, and his driver and best friend, 8-year-old AJ. The series follows their adventures in Axle City—a town populated with big-wheeled vehicles known as Monster Machines. In every episode, Blaze and the Monster Machines race into high-octane adventures that explore Science, Technology, Engineering and Math (STEM). Each action-packed episode is filled with speed, stunts, science, humor and original songs with lyrics that highlight STEM principles such as adhesion, friction, force, trajectory, magnetism, and more.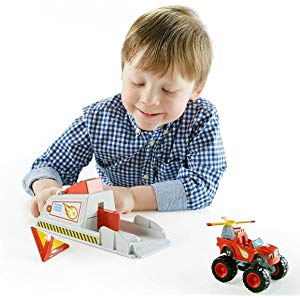 Accelerate into Adventure with Blaze
Blaze is Axle City's greatest hero and the champion of the racetrack! With his Blazing Speed, he can race into action faster than any other Monster Machine, and using his knowledge of engineering, Blaze has the power to transform into nearly any machine! And now racing fans can recreate all of Blaze's amazing adventures and transforming action with the Fisher-Price Blaze Turbo Launcher.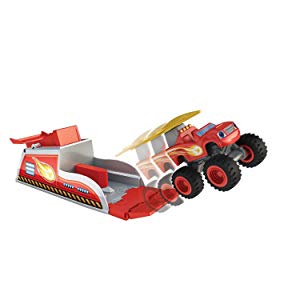 Ready to Race
When kids place Blaze into the launcher and press the spoiler button, their high-speed hero will zoom into action! An adjustable ramp and revving sounds add to the high-octane adventure.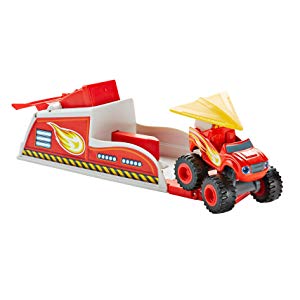 Transform for Any Adventure
Using his Blazing Speed and his ability to transform, this big-wheeled hero can overcome any obstacle that comes his way! This action-packed set comes with two accessories that can transform Blaze from a road-ready racer to a helpful helicopter or a hang-gliding Monster Machine.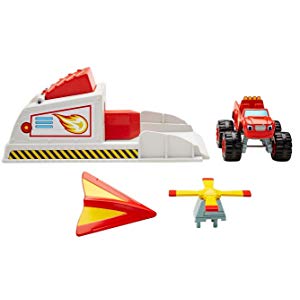 Blaze into STEM
Set in a world of monster trucks, each episode of Blaze and the Monster Machines exposes kids to basic STEM concepts and principles Kids can use the scientific vocabulary and concepts they have learned from the show as they play at home and help transform Blaze into a hang glider or a helicopter. They can also experiment with the STEM concept of trajectory, trying out different angles with the launcher and tilting the ramp to predict and determine where Blaze will zoom off to next!