Melissa & Doug Wooden Scoop and Serve Ice Cream Counter
---
---
Product Code:
9286
Barcode:
772092869
Recommended Age:
3+ Years
---
Fast Shipping
Receive products in amazing time
EASY RETURNS
Return policy that lets you shop at ease
SECURE SHOPPING
Your data is always protected
Description
Here's the Scoop
'I scream. You scream. We all scream for ice cream!' Who doesn't love a scoop or two of the sweet stuff? The Melissa & Doug Wooden Scoop & Serve Ice Cream Counter lets kids serve up yummy 'treats,' made to order! The 20-piece set features a reusable menu card, eight ice cream scoops, six toppings, two cones, cup, scooper, tongs, wooden spoon, and six bills. Lift, stack, and release the scoops onto the cones. This ice cream play set is great for imaginative playtime using your favorite dessert!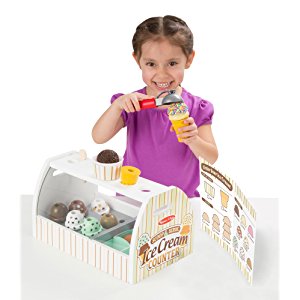 Scoop up some cool treats with this all-inclusive, 28-piece pretend play ice cream counter! the sturdy wooden tabletop counter holds eight wooden scoops of different-flavored ice cream, six assorted toppings, two cones, a plastic cup, an ice cream scooper, tongs, and a wooden spoon. The scooper fits into a hole on top of the scoops to lift, stack, and release. Take orders on the reusable menu card and serve up delicious fun.
From the Manufacturer
From classic wooden toys to crafts, pretend play, and games, Melissa & Doug products provide a launch pad to ignite imagination and a sense of wonder in all children so they can discover themselves, their passions, and their purpose.
Since the company's founding more than 25 years ago, Melissa & Doug has consistently delivered innovative products that inspire open-ended thinking, encourage kids to see new possibilities, and offer Countless Ways to Play. It's part of a bigger vision to Take Back Childhood. Because by giving children a true childhood with the space and freedom to explore their world, we give them a path to realizing their full potential!
28-piece wooden ice cream play set
Includes wooden ice cream counter, eight ice cream scoops, six toppings, two cones, cup, scooper, tongs, wooden spoon, and six $1 bills
Scoops stack on cone or in cup and toppings fit snuggly over scoop
Lift and release scoops with realistic scooper
Ages 3 years and up; 13.6" x 7.7" x 8.6" package