Intex Gator Play Center
---
---
Product Code:
57165
Barcode:
6941057417875
Recommended Age:
3+ Years
Dimensions:
203cm X 173cm X 89cm (LxWxH)
Weight:
3.83kg
---
Fast Shipping
Receive products in amazing time
EASY RETURNS
Return policy that lets you shop at ease
SECURE SHOPPING
Your data is always protected
Description
Comfortable, light and easy to handle; safe and practical
Easily washable, resistant and comfortable
Alligator Playcenter 203 x 173 x 89 cm, with Mini Slide, Parasol, Alligator, 2 Fish, 1 Duck, and an Inflatable Bucket
With sprayer to be connected to the barrel; capacity 180 liters, Years 3+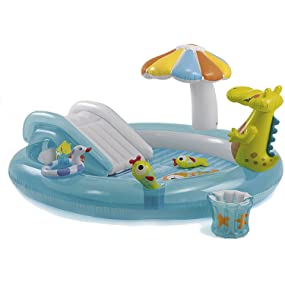 Intex Playcenter alligator
Product code: 57129
Alligator playcenter with mini inflatable slide, inflatable mushroom-shaped umbrella, inflatable alligator, two cute colored fish, a ring duck and an inflatable bucket. At the base of the slide there is a mat for a soft landing. The product includes a sprayer that works by attaching it to the garden cane.
Dimensions: 203X173X89 cm
Capacity: 180 L
Exhaust valve
Suggested filling level 14 cm
Age 3+ years