See all products from Nerf
NERF Elite Firestrike Blaster
---
---
Product Code:
53378
Barcode:
5010993529254
Recommended Age:
8+ Years
Weight:
184.27g
---
Description
Precision light beam works on targets up to 15 feet away.
3 elite darts work with any n-strike elite blaster (each sold separately).
Use the tactical rails to customize with any tactical rail accessory (each sold separately).
Up to a 75-foot range.
Firestrike blaster, 3 elite darts and instructions.
Colors may vary.
Nerf N-Strike Elite Firestrike
When the time comes to engage a target in low-light conditions, make sure you've got a blaster that can handle the mission. Elite, stealth-striking power is in the palm of your hand with the precision light-beam-equipped Firestrike blaster! Activate the built-in targeting beam and lock on to targets up to 15 feet away.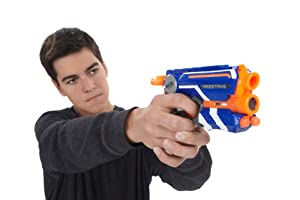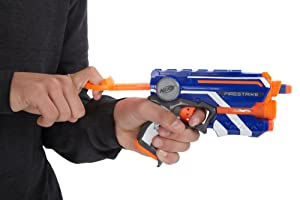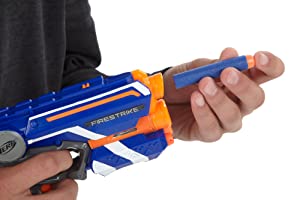 Join the Elite Light-beam targeting Low-light blasting
N-Strike Elite blasters are the ultimate in In low-light conditions you might only The front-load Firestrike blaster is compact,
blaster performance. Featuring upgraded have one chance to engage your target. lightweight, and designed for precision stealth
distance and the revolutionary Elite Dart, With the Firestrike blaster, you can strikes. With the built-in targeting light beam,
this is the final word in today's blaster take aim with the precision light beam you can lock on to target, even in low-light
technology. With the power of an N-Strike and be sure you complete the mission. conditions. Use the Tactical Rail to customize your
Elite blaster in your hands, you can fire Activate the Light Beam Trigger, located blaster with other N-Strike accessories. (each sold
further than ever before - up to 75 feet! below the blast trigger, and aim it at a separately)
Each N-Strike Elite blaster is engineered target up to 15 feet away. Line up your shot
with amped-up velocity. That means your and fire! The front-load blaster features
N-Strike Elite Darts maintain accuracy ammo storage for 2 extra darts, so you
and flight stability, even at extended can make sure you're equipped for a quick reload.
distances. Choose your blaster and
join the Elite.