See all products from Barbie
Barbie - Made to Move Barbie Doll
---
Product Code:
DHL81
Barcode:
887961216226
Availability:
Discontinued
Recommended Age:
3+ Years
Dimensions:
7.62cm X 24.13cm X 24.13cm (LxWxxH)
Weight:
172.93g
Delivery Time:
Within 6 Days
---
Description
Made to Move for Endless Moves
This Barbie doll is Made to Move! Recreate realistic action and capture unique poses with this incredible doll. Perform a pirouette like a prima ballerina. Play soccer like a pro. Pose Barbie doll for a picture just like you would. With so many ways to move Barbie doll, the possibilities are endless!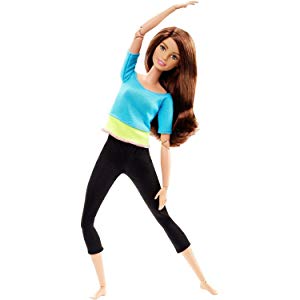 22 'Joints' for Extra Flexibility
Tell all sorts of stories and play out all types of aspirations with these ultra-posable dolls! The Barbie Made to Move dolls achieve their incredible range of movement with extra 'joints.' Each has 22 points to bend from head to toe. This means extra flexibility at the neck, upper arms, elbows, wrists, torso, hips, upper legs, knees AND ankles. From the tilt of her head to a pointed toe, you can move Barbie doll so she can pose just like you!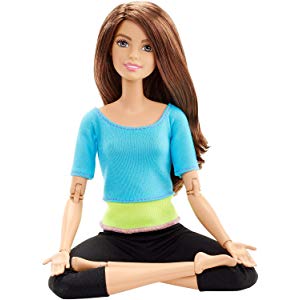 Limitless Opportunity for Expression and Fun
Barbie doll's outfit is perfect for stories on the move! Black leggings with a color-blocked top are trendy and versatile. She wears a cool blue and yellow combination and her long brown hair hangs loose for a modern look. Show off your moves with Barbie Made to Move doll and unleash your imagination! Collect them all to expand the storytelling fun (each sold separately, subject to availability).