See all products from Bicycle
Bicycle Poker Size Standard Index Playing Cards, 12 Deck Player's Pack
---
Availability:
Out Of Stock
Recommended Age:
9+ Years
Dimensions:
4.70in X 4.40in X 4.30in (LxWxxH)
Weight:
1.15lb
---
Description
Bicycle Rider Back Playing Cards
Standard Index, Poker Size
Carton holds 12 decks of playing cards
Classic Air- Cushion Finish for ease of shuffling and optimum performance
Made in the USA

Bicycle, quality playing cards since 1885!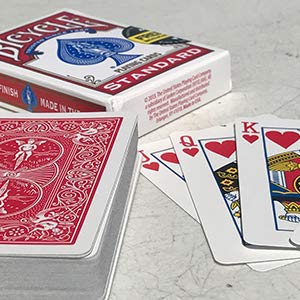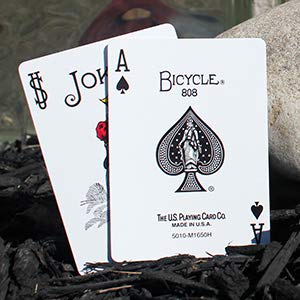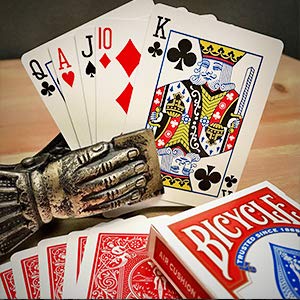 Bicycle is a standard 52-card deck
Bicycle playing cards are the USPCC's signature brand of playing cards. Since 1885, the Bicycle brand has been manufactured by the United States Playing Card Company. The typical Bicycle deck (poker-standard) is a standard deck of playing cards consisting of 52 traditional suited playing cards, two jokers, and two additional ad cards. As with most decks, the first standard card of the deck is the uniquely stylized ace of spades: Goddess of Liberty. The Ace of Spades is a Bicycle trademark.
Available in many sizes and designs
Bicycle playing cards are sold in a variety of decks featuring different cards, back designs (including the traditional rider back and older vintage backs), face designs (including jumbo-index), and sizes. Most of these are traditionally available with red and blue backs, but other back colors (including black, silver, and even pastel colors) are also available. They are made in USA and have an air-cushion finish for ease of handling and shuffling.
Made in the USA
Bicycle brand playing cards deliver classic cards and memorable experiences that players can trust. Bicycle has a long-standing tradition of producing quality, fun and family-friendly products that bring people together. Make sure you pick yours up today.
Product Code:
01633
Barcode:
073854008089