Box of Make Mini Pinatas
---
---
Product Code:
9781338158830
Barcode:
9781338158830
Recommended Age:
6+ Years
Dimensions:
8in X 1.20in X 9in (LxWxH)
Weight:
1.10lb
---
Fast Shipping
Receive products in amazing time
EASY RETURNS
Return policy that lets you shop at ease
SECURE SHOPPING
Your data is always protected
Description
Build and decorate three mini pinatas with foldable cardboard shapes and tissue paper. Book includes ideas for 10 trendy designs, like a unicorn, emoji, watermelon, robot and more! It also includes ideas on how to use the pinatas for gifting, smashing or stashing small treasures.

Make Mini Piñatas
It's party time! With this kit, you can build and decorate 3 mini piñatas - perfect for gifting, smashing, or stashing small treasures. Choose from 10 trendy designs including a unicorn, emoji, watermelon, robot, and more. Plus, learn about the history of piñatas across the globe. With the included cardboard shapes, punch out pieces, and 20 sheets of pretty paper, you'll make the perfect piñata every time.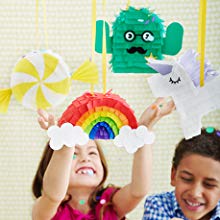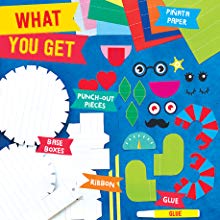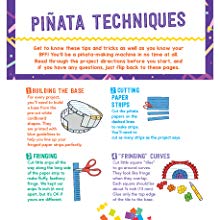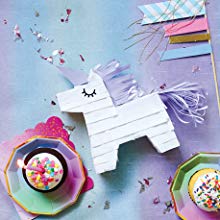 What You Can Make
- Emoji face
- Peppy Panda
- Candy Cutie
- Raining Rainbow
- Watermelon Wow
- Cool Cactus
- Rad Times Robot
- Happy Hamburger
- Magical Unicorn
- Daring Dragon
What You Get
- 40-page book of instructions and inspiration
- Piñata paper
- Punch-out pieces
- Base boxes
- Ribbon
- Glue
Crystal Clear Instructions
Learn how to create the circle, half-circle, arch, and animal shapes, and turn them into adorable piñatas.
Glue together the precut bases, punch-out pieces, ribbon, and fringed piñata paper in these step-by-step instructions.
Cuteness Guaranteed
From birthday gifts to time capsules, these super-cute piñatas look as fun as they are to make.
Liven up any room or party with this creative and unique craft.