Description
HIGH QUALITY TROPICAL CAR MIRROR FOR ALL AGES – The tropical mirror comes in colorful design that easily catches your baby's eyes while baby is in rear facing car seat, in the back of the car and mirror is attached to the car seat headrest in front of your baby. The mirror is suitable for the babies of all ages, right from infant to toddlers. The toy is suitable only for cars with adjustable headrest with metal poles
PORTABLE AND PERFECT FOR THE PARENTS INTERESTED TO WATCH BABY WHILE DRIVING - Parents always find difficulty in keeping eye on the babies while traveling. The mirror is designed to be portable and you can move it from car to car. Just take it anywhere whenever you need to travel. The mirror is attached with Velcro strap with additional fabric strap and teether, to attach the headrest pole, for extra safety.
DUAL PURPOSE – The tropical mirror serves dual purpose. For parents, it is safety point of view and easier drive. The safety mirror gives you peace of mind. With properly set mirror angle you and baby see each other face-to-face. You are happy as well as your baby when there is eye-to-eye contact. For baby it is great entertainment. The mirror with monkey character keeps babies occupied giving them exclusive pleasure.
BABY'S ENTERTAINMENT IN TRAVEL – This is special designed toy for the babies while traveling by car. Generally traveling is very boring for the little ones. They need to be kept occupied with entertaining means. This safety mirror serves this purpose.
BABY'S POINT OF VIEW WHILE TRAVELING – While you are driving your baby is seating ideal on the rear seat doing nothing. Think how boring it is. The tropical car mirror serves the purpose of baby's entertainment as well keeps you relaxed watching baby's activities while driving.
Taf toys Tropical car mirror - Allows you to see your baby's face as you drive for Rear-Facing Car Seats.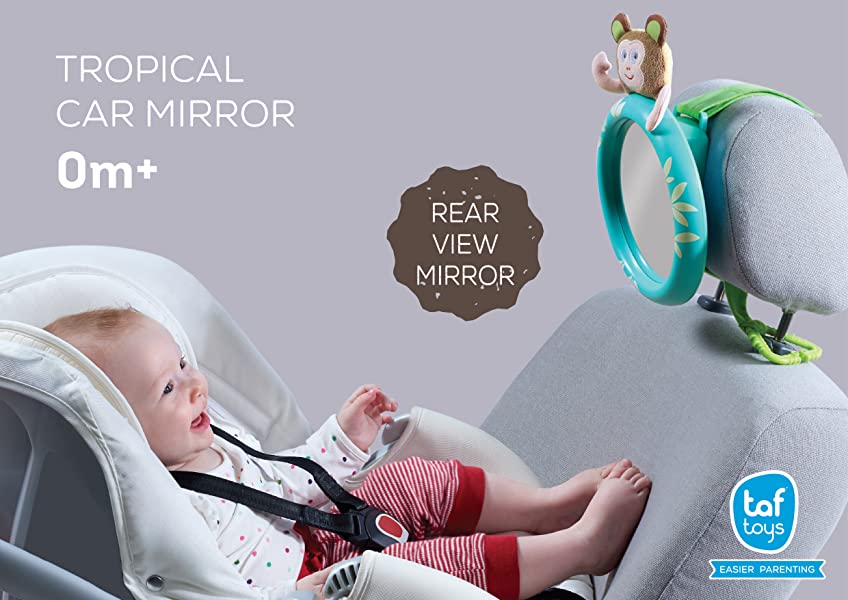 Enjoy an Easier Drive while your rear-facing baby is safe & happy, with our colorful baby-safe curved mirror, that provides an easy and convinent parental view of the baby in the back seat of the car, from the driver's seat. A practical and safe solution which keeps the parent happy and calm whilst driving.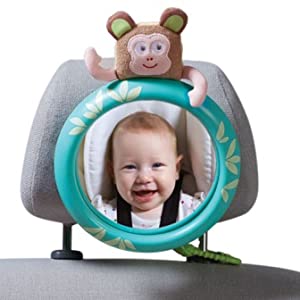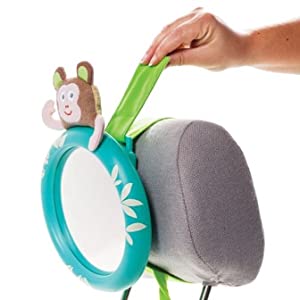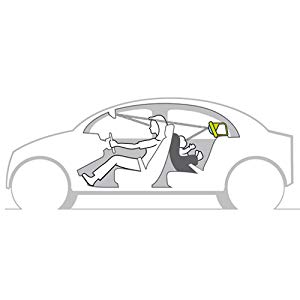 Friendly Marco the Monkey toy, entertains the baby and helps catch his attention when traveling by car, so the parent can anjoy seeing his baby's sweet face through the miror. For babies from birth 0+, seating in rear facing position, at the back of the car.
Easy & safe assembly
The mirror easiely connects to the headrest using a velcro adjustable strap, whilst a tethering ring provides extra security, when attached to the headrest pole. Easy to attach and detach.
The baby's rear-facing car seat keeps him safe, but makes it difficult for you to see him while you are driving. Taf Toys colorful baby-safe curved mirror provides an easy and convinent parental view of the baby while in their rear-facing carseat from the driver's seat.
​