Disney Pixar Cars 3 Willy's Butte Transforming Track Set
---
---
Product Code:
DVF40
Barcode:
887961367850
Recommended Age:
5+ Years
Dimensions:
45.70cm X 25.40cm X 8.60cm (LxWxH)
Weight:
1kg
Delivery Time:
Within 6 Days
---
Description
Enjoy new movie-themed thrills at a favourite Radiator Springs location – Willy's Butte! Inspired by Cars 3, this hair-raising set uses multiple wild driving skills and transforms for 3 ways to play. Launch cars and see them speed up the ramp and soar over the jump! Transform the track and do more loop stunt action and increase the race challenge. The set features accessories as seen in the new movie and your favourite champion vehicle, Lightning McQueen to start the rocky racing right away! Other vehicles sold separately, subject to availability.
-Modelled after Willy's Butte in Radiator Springs.
-Transforms for 3 ways to play.
-Multiple stunts: launch through vertical loop, horizontal loop, then speed around the bend!
-Includes a Lightning McQueen vehicle.

Transforming track with new movie stunts!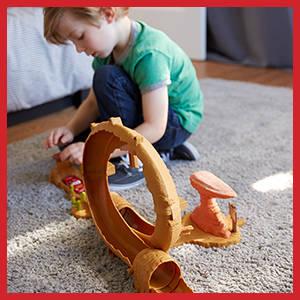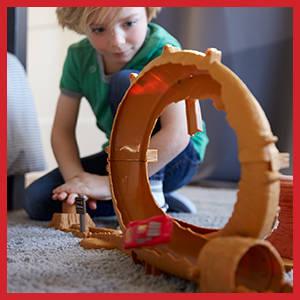 Heart and humour
DisneyPixar Cars movies entertain and warm fans' hearts. Their compelling, comedy-adventure stories about teamwork, friendship and courage inspire audiences to go for it!
Authentic Action
Computer generated (CG) animation is bold and visually exciting – and this set allows kids to recreate that action in real time with favourite character vehicles. Each toy in our line is carefully crafted to evoke the personality, unique style and fun seen on screen from Radiator Springs to the world's most thrilling races and settings!
Cool new racing play
Raise the stakes and brave the rocks! This set celebrates new movie themed challenges and exciting, creative ways to race in one of fans' all-time favourite settings!