FurReal Check-up Zandi
---
---
Product Code:
E0367
Barcode:
5010993505289
Recommended Age:
4+ Years
Dimensions:
5.30in X 11in X 11in (LxWxH)
Weight:
2lb
---
Description
Baby monkey needs a check-up
Eyes open and close
Adorable monkey sounds
Includes pet, thermometer toy, stethoscope toy, and instructions.
Ages 4 and up. 3 x 1.5v A76 alkaline batteries included.
furReal Check-up Zandi
Welcome to the furReal brand's family of pets – engaging and often surprising friends that can become a child's favorite companion. Unlike other plush toys, furReal pets aren't intended to be merely watched or collected; they're designed to be played with, lived with, and loved. Their exciting and engaging play can help create unforgettable childhood memories.
Kids can listen to her heartbeat and ask how she's feeling
She responds when kids gently tilt her head back
Happy playtime sounds – and sometimes coughs -- from a cuddly pet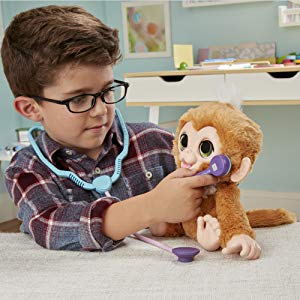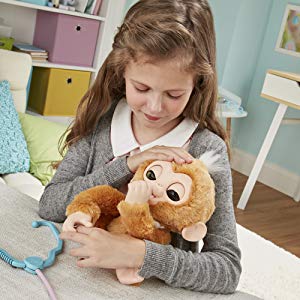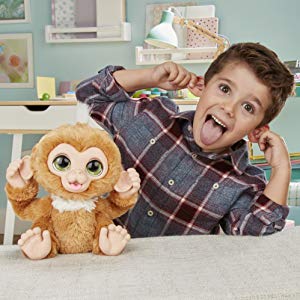 Sweet baby monkey
The Check-up Zandi pet is a sweet little monkey who's ready for a check-up! Kids can use the stethoscope toy to listen to heartbeat sounds and pretend to take her temperature with the thermometer toy. As they cuddle her and pet her on the head, she opens and closes her eyes while making happy sounds (and an occasional cough!). Good to know she's a healthy, happy monkey – now it's time to play! furReal and all related properties are trademarks of Hasbro.
An exciting check-up
As kids gently press the stethoscope toy to the monkey's chest, they'll hear loving sounds and heartbeat sounds. When they place the thermometer toy in her ear, they'll see a readout letting them know she's okay! As they soothe their little patient by petting her on the head, her eyes will open and close as she makes happy sounds. Seems like that check-up went just fine!
Engaging vet play
Kids will enjoy pretending they're really a vet and giving this sweet monkey a check-up. The Check-up Zandi pet isn't just a good patient, she's an engaging little monkey who responds to kids' love and affection. Her happy sounds make it clear that she's glad to be healthy… and that she's ready to cuddle and play!