See all products from Step 2
Step2 Anniversary Edition Up & Down Roller Coaster
---
---
Product Code:
863399
Barcode:
733538863396
Recommended Age:
2+ Years
Dimensions:
123in X 30.50in X 14.80in (LxWxxH)
Weight:
33.30lb
---
Description
ATV-style coaster car features a high back, handrail and foot rests for a secure ride
2 non-slip steps lock securely into 3 piece track for access from both coaster sides
Over 10 feet (3 meters) of up and down coaster-riding fun
Maximum coaster weight limit: 50 lbs. (22.7 kg)
Minimal adult assembly required

Endless fun!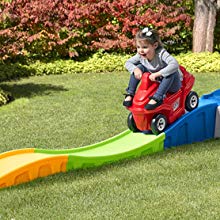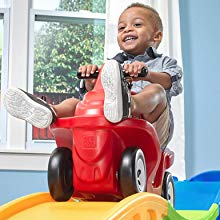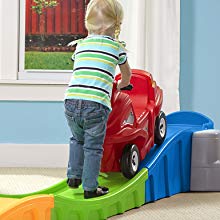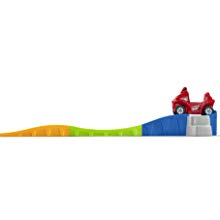 Ramped-Up Fun!
Kids admit the real wow factor involves the wavy, downhill, can't-wait-to-do-it-again coaster ramp, which is molded in with recessed wheel wells to keep the car nice and steady.
Safe Play
There are certain things that make this car extra safe and secure for your most precious cargo. Things like a high back, handrail, and comfy foot rest. 'Nuf said.
Easy Uphill Climb
It goes without saying kids will want to keep riding again and again. Which is why we've made it extra easy for them to walk right back up with a gentle slope and wide track.
Ten Feet of Wheeee!
Squeals of delight are absolutely guaranteed with more than 10 feet of up-and-down coaster riding fun. No one's going to feel short changed here. Ever!
What a Ride!
Countless upon countless kids have loved and enjoyed the classic Up & Down Roller Coaster by Step2 for the past 20 years—which is why this anniversary edition is so incredibly special! It's got the same thoughtful design (roomy ATV coaster car, easy walk-up ramp, and over 10 feet of track) that has always delighted the kiddies. And its trusty safety features (non-slip steps, lock-in recessed retainer wells, and car with high back, handrail, and foot rests) continue to put parents' minds at ease. Between us, the only minor details that have changed are the color scheme, side track design, and car shape. But rest assured, the fun remains 100% the same! Made in the U.S.A. with some imported parts