Nerf N-Strike Infinus Elite Toy Motorized Blaster with Speed-Load Technology, 30-Dart Drum
---
---
Product Code:
E0438
Barcode:
159766053260
Recommended Age:
8+ Years
Dimensions:
4in X 26in X 13.80in (LxWxH)
Weight:
4.41lb
---
Description
The Infinus Nerf toy blaster features Speed-Load Technology that automatically loads darts into the 30-dart drum
The N-Strike Elite Infinus blaster is fully motorized to shoot 30 darts fast for intense Nerf battles -- batteries required (not included)
Includes 30 Official Nerf Elite darts that are tested and approved for performance and quality and constructed of foam with flexible, hollow tips
Speed-Load Technology lets you load darts without removing the drum, so you can keep firing as you reload to keep you blasting and in the game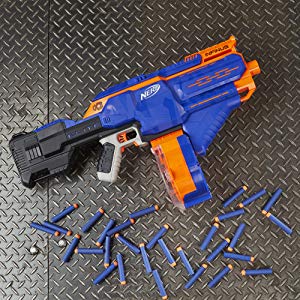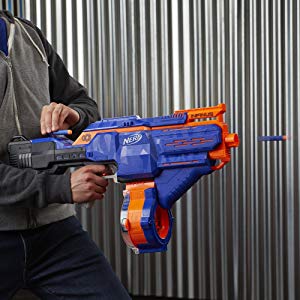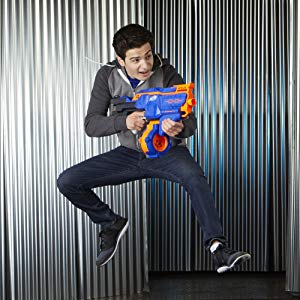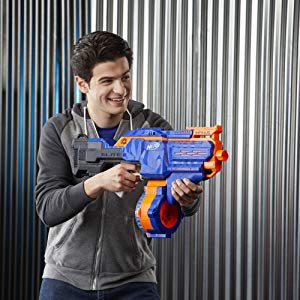 Nerf N-Strike Elite Infinus
Experience the excitement, energy, and attitude of the Nerf brand, and find out why It's Nerf or Nothin'. Nerf N-Strike Elite blasters from Hasbro deliver the ultimate in blaster performance for Nerf battles. The fully motorized Infinus blaster features motorized Speed-Load Technology that automatically loads darts in the drum!
Product Features
Motorized Speed-Load Technology
Blast into action with on-the-go dart loading for non-stop battling! The Nerf N-Strike Elite Infinus blaster features motorized Speed-Load Technology that automatically loads darts in the drum. The drum stays attached to the blaster, so battlers don't have to remove the drum to reload. They can load and fire darts at the same time, so they can keep battling as they're reloading! Nerf and all related properties are trademarks of Hasbro.
30-dart drum
The motorized Infinus blaster has a detachable 30-dart drum and comes with 30 Elite darts, giving kids plenty of firepower. Insert darts into the loader on the top of the blaster, and keep feeding them in until the indicator light shows that the drum is full. Hold down the acceleration trigger to power up the blaster's motor, then pull the trigger to fire. Players can keep feeding darts into the loader as they blast, and the motorized Speed-Load Technology will automatically take care of loading them into the drum. Battlers can keep the drum stocked as they battle, to crush the competition an unrelenting storm of firepower!
Reload Without Removing the Drum
With the Infinus blaster's Speed-Load Technology, battlers can reload in the middle of the battle because they don't have to step away from the action to remove the drum and reload it. Crush competition with rapid-fire dart blasting from this fully motorized Nerf N-Strike Elite blaster, which is compatible with most other Nerf N-Strike Elite clips and drums (each sold separately). With the Infinus blaster and its Speed-Load Technology, non-stop battling is just a trigger-pull away!
Motorized Speed-Load Technology automatically loads darts into the drum
Fully motorized blaster with 30-dart drum
Speed-Load Technology lets battlers load darts without removing the drum