Nerf- 26-Piece Cobra RC-6 Dual Targeting Set
---
Product Code:
E7565
Barcode:
5010993625796
Availability:
Discontinued
Recommended Age:
8+ Years
Dimensions:
55cm X 31cm X 7cm (LxWxH)
Weight:
830g
---
Description
Start blasting with Alpha Strike blasters from Nerf, the number one blaster brand*! If you're new to the Nerf brand, Alpha Strike blasters are an awesome way to get into adrenaline-pumping Nerf battles and experience the power and performance of the Nerf brand. They're easy to use so first-time battlers can begin blasting fast. And if you're already a Nerf fan, these blasters make great additions for your Nerf collection!
Blast into Nerf games with the 26-piece Cobra RC-6 Dual Targeting Set that includes 2 blasters, 20 darts, and 4 half-targets that can be attached to create 2 whole targets. Load 6 darts into each Cobra RC-6 blaster, pull the handle to prime, and press the trigger to fire 1 dart at a time. Includes 20 Official Nerf Elite darts that are tested and approved for performance and quality and constructed of foam with flexible, hollow tips. No batteries required.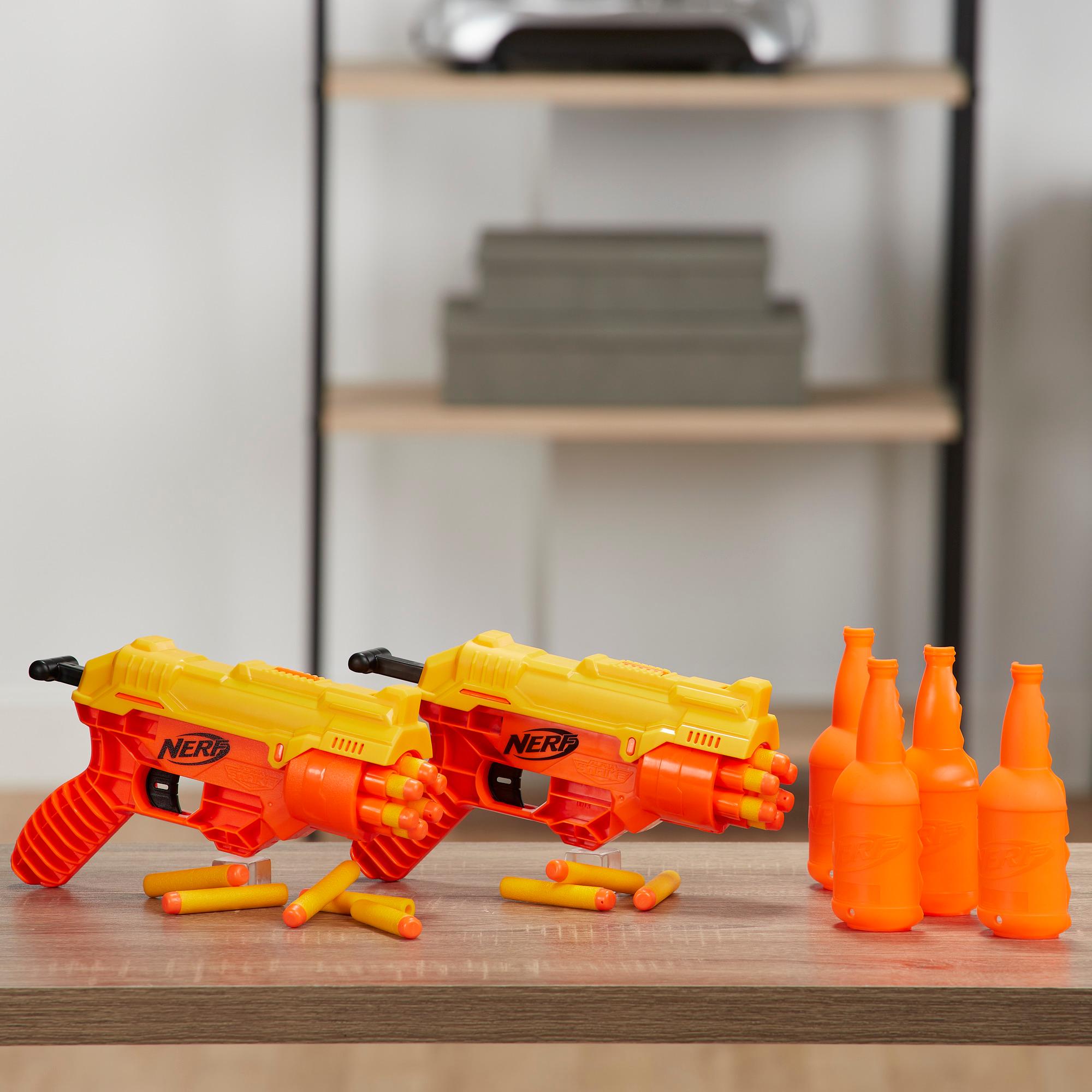 Features:
Includes blaster, 10 darts., and 4 half-targets.
START BLASTING WITH NERF ALPHA STRIKE BLASTERS: Alpha Strike blasters are a great way to start experiencing the power, performance, and excitement of Nerf, the number one blaster brand*
26-PIECE COBRA RC-6 DUAL TARGETING SET: 26-piece set includes 2 Cobra RC-6 blasters, 20 darts, and 4 half-targets to compete in Nerf games and practice your skills (no batteries required)
SET UP TARGETS DIFFERENT WAYS: Includes 4 half-targets that you can set up different ways, and you can also attach them to create 2 full targets
6-DART TARGET BLASTING: Load, prime, and fire each blaster in 3 quick steps to unleash 6 darts in a row
INCLUDES 20 OFFICIAL NERF ELITE DARTS: Includes 20 Official Nerf Elite darts that are tested and approved for performance and quality and constructed of foam with flexible, hollow tips
Ages 8 and up