School Zone - Alphabet Stickers Workbook
---
---
Product Code:
9781681470481
Barcode:
9781681470481
Recommended Age:
3+ Years
Dimensions:
7.60in X 0.30in X 10.70in (LxWxH)
Weight:
11.20oz
---
Description
AMAZING - The Alphabet Sticker book is packed with 60+ colorful stickers that will keep your child thinking! These proven activities will help prepare your child for success by using puzzles, games, word searches and much more! This sticker book is intended for preschool and kindergarten, kids ages 3 to 6. School Zone's Alphabet Stickers workbook, a Stuck on Learning!® book, introduces children ages 3-6 to the alphabet and beginning phonics through playful activities. The interesting lessons focus on recognizing letters, printing letters, identifying beginning sounds, matching pictures to words, reviewing alphabetical order, and more. Letter and picture stickers enhance your child's learning adventure. Look for award stickers, too.
STICKER BOOKS - Stickers plug into each activity to complete the exercises and playfully help develop readiness skills. And with this workbook from the Stuck on Learning! series, it's all cleverly disguised as enjoyable sticker play designed to prepare your child for elementary school. There are also colorful reward stickers that reward your child over and over for a job well done. As your child traces, outlines, and works through this workbook, he or she will be developing those essential skills needed for future success in school. Get your child stuck on learning!
RESULTS - Our learning materials have helped educate three generations of kids, creating lifelong learners, and the legacy continues. Digital content, flash cards, workbooks, readers, toys, and games—all are crafted through a child's eyes while integrating parent and teacher standards.
PREPARATION - Let us help you prepare your young child for the next grade level with our workbooks, flash cards, books and a Little Scholar Tablet. Keep kids "classroom ready" with these great supplemental learning tools and more!
AWARD WINNING - School Zone content has won The Parents' Choice Foundation Award, Tillywig Toy Awards, Brainchild Award, Family Choice Award, Mom's Choice Awards Honoring Excellence, Gold Star Toy Scholastic Parent and Child Award and many more.
School Zone Publishing - Nourishing Young Minds
OUR STORY: Almost 40 years ago, long-time educators James Hoffman, Ed.D., and his wife Joan Hoffman, M.A., began a retail supply outlet for teachers, then soon identified a need for at-home learning materials to help parents support and supplement their children's classroom instruction. School Zone Publishing fast emerged as the market leader in workbooks and flashcards for preschoolers through sixth graders.
School Zone remains family-owned, focused on excellence, responsive to customers, alert to emerging technology, and committed to the community. We continually update our products with new features and content, reflective of changing standards, evolving teaching methods, and overall best practices. As just one example, we update our workbook curriculum on an as-needed basis to address changing standards such as those presented by the National Council of Teachers of Mathematics (NCTM) and Common Core.
The best educational products for kids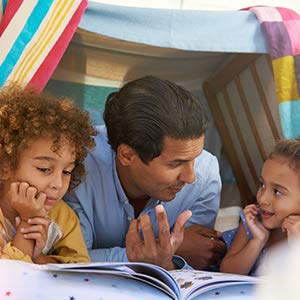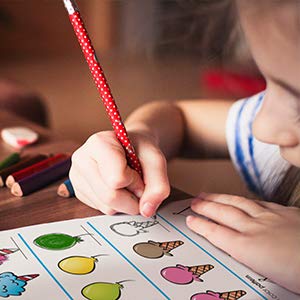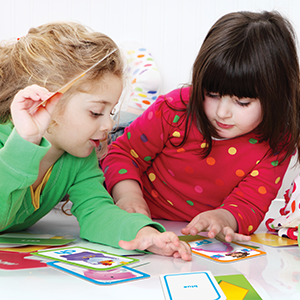 Time-Tested Tools
Our learning materials have helped educate three generations of kids, creating life-long learners, and the legacy continues. Digital content, flash cards, workbooks, readers, toys and games—all are crafted through a child's eyes, while integrating parent and teacher standards.
Writing by Hand Improves Memory
Writing in workbook pages, as opposed to typing on a computer, can help kids focus and learn. Writing by hand fires up specific areas of a child's brain, improving the ability to both remember what he or she learns and to think of new ideas.
Longer Retention
Kids and parents who use our flash cards for practice testing are using one of the most effective learning techniques available. A hundred years of research shows practice testing is highly likely to boost retention.
Help kids develop important soft skills for a lifetime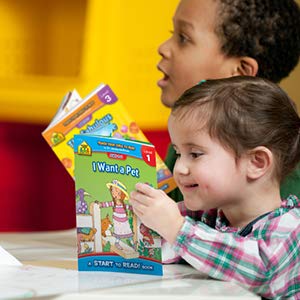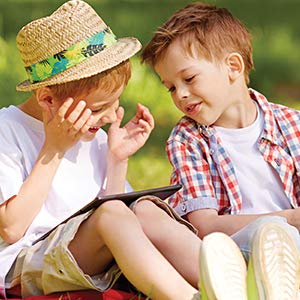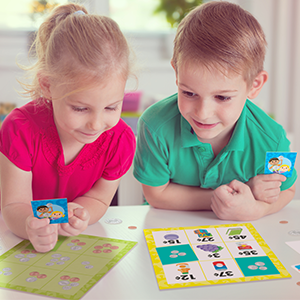 Reading Has Lifelong Benefits
A love of reading has been proven to have far-reaching benefits for children, emotionally and academically. And children who enjoy reading become confident readers and read more often.
Kids Love Technology
School Zone's digital content supports children's learning goals by enhancing problem-solving and critical thinking, as well as reinforcing skills through multisensory activities. It also improves language skills, increases motivation to stay on task, and stimulates curiosity and imagination.
Not Just for Fun
When kids play games together, they learn a healthy sense of competition and experience the joy of winning and empathy for losing. Along the way, they learn collaboration, cooperation, and problem-solving. Creative play stimulates imagination and nurtures emotional well-being.
Trust School Zone—we've done the hard work for you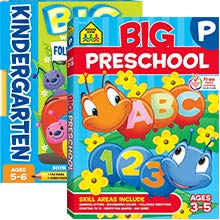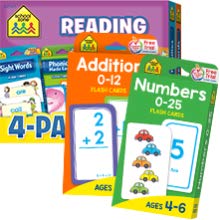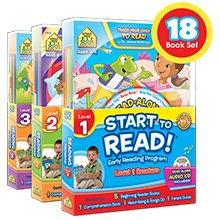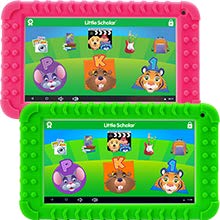 Workbooks
School Zone grade-specific and skill-specific workbooks begin with the basics and advance. Strategic, teacher-designed content team up with playful illustrations that inspire kids and help them focus. Completion award certificates let kids proudly display their achievements, and Parent Guides and Activity Ideas extend the lessons. Many also include adorable reward stickers that add to the fun.
Flash Cards
School Zone flash cards offer big learning power packed with near-endless possibilities. From interactive cards that create bedtime shadow art, to puzzle cards and some with rounded edges made especially for toddler grip, they offer a fun, fast, easy, time-tested way to memorize new information and apply important concepts. Kids can use them solo or with a friend, and parents and siblings can join in the fun, turning learning into a family activity!
Start to Read!
Each of the three levels in our Start to Read! series contains stories with picture clues and vocabulary words chosen specifically for that reading level. As kids gain confidence, they can progress to the next level with ease.
Little Scholar
Little Scholar is the best tablet to prepare kids for pre-K through 1st grade because it's fully loaded with School Zone's proven learning curriculum! Our child-friendly tablet is 100% focused on education.
The School Zone Advantage
School Zone is a recognized market leader in creating innovative, multimedia learning tools to prepare children for a lifelong love of education. With an almost 40-year heritage of delivering original and award-winning education solutions across a variety of platforms, our products connect with kids "where they are." Designed by educators, with proven, research-based content, our software, apps, music , games, flash cards, workbooks, and more have helped millions of parents give their children an early-learning advantage.