See all products from Barbie
Barbie Malibu House Playset
---
---
Product Code:
FXG57
Barcode:
887961690774
Recommended Age:
3+ Years
Dimensions:
91.39cm X 41.91cm X 68.61cm (LxWxxH)
---
Description
Children's' imaginations can move right in to the Barbie Malibu doll house; the Barbie playset, opens out to create a play space of more than 2 feet wide
​The Barbie house has two stories, featuring 6 rooms including, a kitchen, dining room, living room, bedroom, bathroom and outdoor patio plus, transformation features make some rooms 2-in-1
Children can flip the wall in the living room to create an entertainment room and swing; open the bathroom vanity to reveal the shower and flip down the bedroom ceiling to transform it into a bunk bed to make room for 4 dolls to sleep in this fun playset
​More than 25 doll accessories can be arranged and rearranged to explore design or tell a story; some pieces have a handle that a doll can hold and/or plug-and-play design to let kids immerse themselves in role-play and storytelling
This dolls playset includes a dolls house and more than 25 accessories and Barbie toys including, a sofa, coffee table, dining table and 4 chairs; Barbie accessories include, place settings, food, bathroom items, a sleeping bag and a game board
​With a big footprint and lots of pieces, this Barbie dollhouse makes a great gift for kids aged 3 years and older
Kids can make the doll house their own with more than 25 pieces to decorate its 6 rooms, to bring endless possibilities into the playset. The Barbie Malibu House comes with 25+ Barbie accessories that include furniture and household items; doll not included, each sold separately, subject to availability. Colours and decorations may vary. The Barbie doll house opens to reveal so many play spaces and double the fun features. The 2 story, 2-foot-wide Barbie House playsets ready for children's imaginations to move right in with cool transformations and lots of storytelling pieces. The living room transforms to an entertainment room, the shower becomes a vanity and the ceiling becomes a bunk bed to make room for 4 Barbie dolls to sleep. Classic features are there, too: the bathroom has a toilet with sink and shower; in the kitchen, the fridge and oven open. There is a fence piece that's sports a grill sticker to bring the play outside. The doll furniture and Barbie accessories include classic items with signature style, like a pink couch or white circle dining table and smaller pieces that add extra fun. It even has place settings and a game board. Some pieces have a handle that adollcan hold (each sold separately. Subject to availability) and/or, are designed with plug-and-play features that make it easy for active play or quick clean up. Fold the playset to store away with ease. Tell stories where Barbie dollies hanging with her sisters, having sleepovers or backyard BBQs, celebrating a birthday, holiday or any day. There are endless stories to tell and limitless ways to explore living in the Barbie Malibu House because when children play with Barbie they imagine everything they can become.


The Barbie Malibu House Is Ready for Move In!
Kids simply open this dollhouse and discover a play space more than 2 feet wide with indoor and outdoor storytelling elements to inspire hours of play time!
Turn This Barbie Dollhouse into a Home!
There are so many stories to tell with 2 floors, 6 rooms, transformation elements and 25+ accessories (doll not included).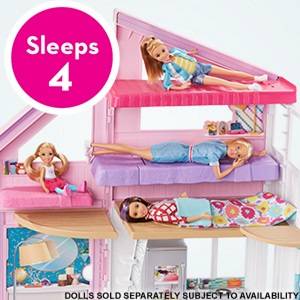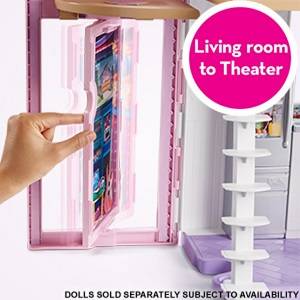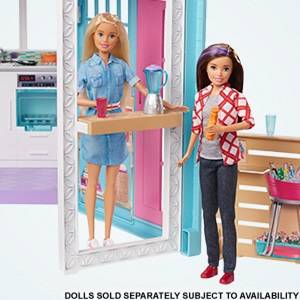 Slumber Parties!

The ceiling transforms into a bunk bed to make room for 4 to sleep.
Movie Nights!

Flip the wall in the living room to turn it into an entertainment room.