See all products from Klutz
Klutz Face Painting
---
---
Product Code:
9781591744306
Barcode:
9781591744306
Recommended Age:
8+ Years
Dimensions:
9in X 1in X 9.50in (LxWxxH)
Weight:
14.40oz
---
Description
6 professional Wolfe face paints in bright colors
Comes with 6 Wolfe FX Professional Face paints, brush, and sponge, and tear-out design cards
Includes a 58-page instructional book with Klutz certified crystal-clear instructions
1.75+ million sets sold
Recommended for children ages 8+

Face Painting
It's the book that launched a zillion faces. This complete kit is ideal for parties, Halloween, and dress-up with 6 ultra-safe Wolfe FX Professional Face Paints in bold, bright colors; easy-to-use tear-out cheat sheets; and loads of kid-pleasing designs.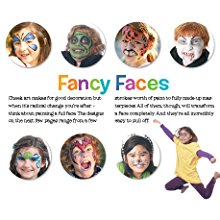 What You Can Make
Over 40 designs to choose from including:
Dog.
Shark.
Rocketship.
Bumblebee.
Fairy.
Superhero.
Pirate.
Witch.
Vampire.
Cheetah.
Unicorn.
Dinosaur.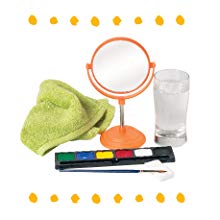 What You Get
58-pages of instructions, ideas, and inspiration.
6 professional-quality face paints.
1 brush.
1 face paint sponge.
12 punch-out idea cards with 1 storage envelope.
Crystal Clear Instructions
Choose from over 40 face painting ideas and inspirations and follow along with clear step-by-step instructions to make funny, fabulous and fierce faces.
Start by learning brushstrokes 101, then venture into cheek art, fancy faces, tattoos, and more.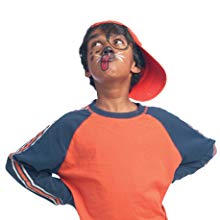 Cuteness Guaranteed
Have fun turning your friends and family into superheroes and fairies with your very own palette, paintbrush, and sponge.
12 tear outtake along design cards are included in the back of the book to make face painting even easier at parties. Tear them out, pack them, and prepare for applause.