Federico Mahora Golden Bliss Facial Care Package Includes Day Cream, Eye Cream, Night Cream
---
---
Product Code:
FCP2
Barcode:
FCP2
Recommended Age:
For Moms
---
Fast Shipping
Receive products in amazing time
EASY RETURNS
Return policy that lets you shop at ease
SECURE SHOPPING
Your data is always protected
Description
This package includes 3 items of the essentials for your Facial :
1.Golden Bliss Day Cream (new formula)
Collection: Fontainavie
Capacity: 60g
The royal formula with 24-carat gold for the skin in need of tightening, smoothing and vitality. It protects against the harmful effects of the external factors. Coenzyme Q10 slows down the skin ageing process and stimulates its regeneration.
- rich in nutrients
- with pearl powder that adds glow, grape seed extract and aloe vera
- with a new formula enriched with an active fraction of the Chinese rhubarb root, blue agave leaves and betaine extract
FONTAINAVIE GOLDEN BLISS ON A MISSION TO IMPROVE SKIN FLEXIBILITY AND RADIANCE
For dull skin that needs firming and rejuvenation.
• Pure 24-carat gold – slows down the skin ageing and wrinkle formation processes, has soothing properties, adds radiance to the skin
• Plant stem cells – in night and eye creams come from an extremely rare Swiss apple variety, improve the vitality of skin stem cells which are responsible for youthful appearance of the skin
• Coenzyme Q10 – has antioxidant properties, counteracts free radicals and photoageing of the skin
• Ginseng extract – stimulates skin renewal, improves blood circulation, rejuvenates and regenerates
• Hyaluronic acid – perfectly binds water in the epidermis and smooths the skin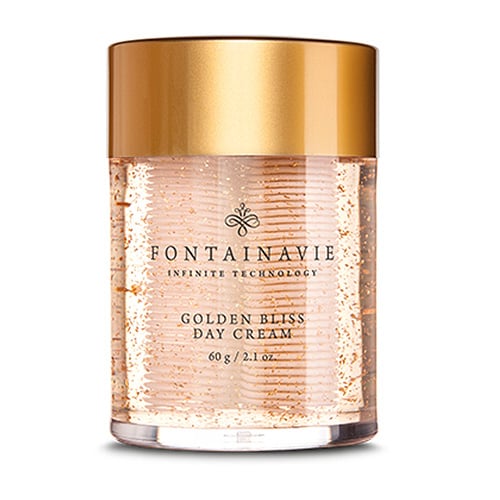 2.GOLDEN BLISS EYE CREAM
Collection: FONTAINAVIE
Capacity: 21g
A true elixir for the tired skin. Perfectly moisturizes and smooths the delicate skin around the eyes as well as prevents redness. It contains precious 24-carat gold particles, caffeine that stimulates microcirculation and the coenzyme Q10 that has antioxidant properties.
triple power of plant extracts: horsetail, witch hazel and grape seed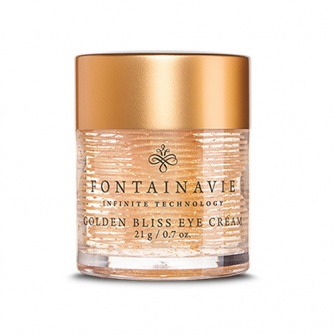 3.Golden Bliss Night Cream
Collection: Fontainavie
Capacity: 60g
The synergistic effect of well-selected rejuvenating ingredients – 24-carat gold, plant stem cells and coenzyme Q10 – to nourish and improve skin elasticity at night. Rescue for dull skin that needs tightening and rejuvenation.
- green tea has an antioxidant effect, aloe vera reduces inflammation and hyaluronic acid has moisturising properties
FONTAINAVIE GOLDEN BLISS ON A MISSION TO IMPROVE SKIN FLEXIBILITY AND RADIANCE
For dull skin that needs firming and rejuvenation.
- Pure 24-carat gold – slows down the skin ageing and wrinkle formation processes, has soothing properties, adds radiance to the skin
- Plant stem cells – in night and eye creams come from an extremely rare Swiss apple variety, improve the vitality of skin stem cells which are responsible for youthful appearance of the skin
- Coenzyme Q10 – has antioxidant properties, counteracts free radicals and photoageing of the skin
- Ginseng extract – stimulates skin renewal, improves blood circulation, rejuvenates and regenerates
- Hyaluronic acid – perfectly binds water in the epidermis and smoothes the skin